Double Smoked Bacon Wrapped Filet Mignon with Caramelized Mushrooms And Blue Cheese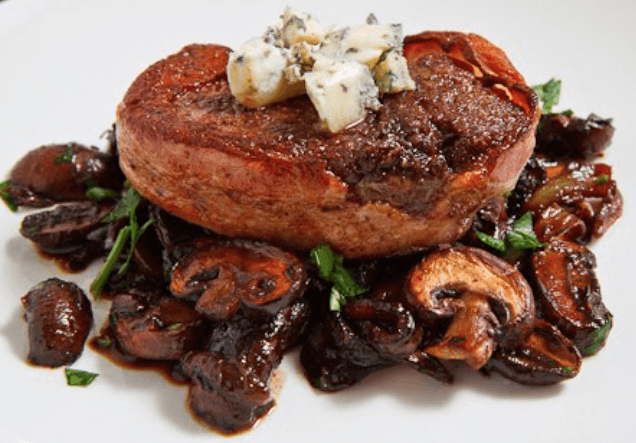 |
The name of this recipe says it all, Double Smoked Bacon Wrapped Filet Mignon with Caramelized Mushrooms Topped with Blue Cheese.
And just take another look at that mouth watering photo…yum!
While filet mignon is a tender cut of beef, you need to be careful when you cook it to prevent it from drying out.  One way to prevent this is to wrap it in a layer of fat.  And in this case that is a delicious double layer of smoked bacon.  As the instructions say, be sure to quickly sear both sides of this steak in a frying pan before baking in the oven.  This will seal in the juices and caramelize the outside.  Also, be sure to let your filets rest once you have taken them out of the oven.  This will allow the juices to redistribute before cutting in to them.
And to make this even better, you are making a sauce of caramelized mushrooms and onions and topping this all with Blue Cheese.
Treat yourself and a friend to this amazing dinner!
Tip: When buying your filet mignon, go for the ones with some nice marbling as that marbling is full of flavour and it helps keep the meat nice and juicy and tender.
Double Smoked Bacon Wrapped Filet Mignon with Caramelized Mushrooms topped with Blue Cheese
Prep Time: 10 minutes
Cook Time: 30 minutes
Total Time: 40 minutes
Servings: 2
Ingredients
1 tablespoon butter
1 onion, diced
8 ounces mushrooms, sliced
2 cloves garlic, chopped
1 teaspoon thyme, chopped
1 tablespoon olive oil
salt and pepper to taste
2 strips double smoked bacon
2 (6 ounce) 1 1/2 inch thick filet mignon, room temperature
1/2 cup red wine
salt and pepper to taste
1 tablespoon butter
1 handful parsley, (optional)
1 tablespoon blue cheese, crumbled (optional)
Directions
Melt the butter in a pan over medium heat.
Add the onion and saute until tender, about 5-7 minutes.
Add the garlic and thyme and saute until fragrant, about a minute.
Add the mushrooms and saute until they turn golden brown and caramelize, about 15-20 minutes.
Meanwhile heat the oil in an oven safe pan over medium high heat.
Season both sides of the filet mignon with salt and pepper and wrap the bacon around holding it together with a toothpick.
Sear both sides of the filet mignon in the pan until slightly caramelized, about 2 minutes per side.
Transfer the pan to a preheated 375F/190C oven and cook for 4-6 minutes for medium rare.   If your filets are 2 inches thick cook for a minute or two longer.
Set the filet mignon aside to rest for 5 minutes.
Add the wine to the pan that the filet mignon was cooked in and deglaze it.
Transfer the wine to the pan with the mushrooms and deglaze it.
Add the butter and simmer to reduce the sauce by half.
Season with salt and pepper, remove from heat and mix in the parsley.
Serve the filet mignon on the mushrooms and top it with the blue cheese.
A huge thanks to Kevin Lynch of closetcooking.com for this amazing recipe.  Please visit his website for a lot more details on this recipe as well as many other great recipes.