Deliciously Seasoned Slow-Cooker Coconut Chicken Tikka Masala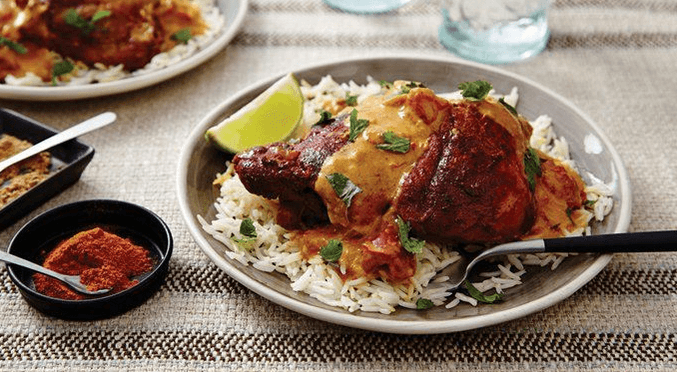 |
This popular Coconut Chicken Tikka Masala is getting ready for a slow-cooker makeover.
This is considered one of the top comfort foods in the United Kingdom.  It gets its inspiration from some wonderful Indian cuisine.
This highly seasoned dish will work well in a slow-cooker and is just waiting for you to try.
Ingredients
12

bone-in chicken thighs (about 4 lb), skinned
4

teaspoons ground coriander
4

teaspoons paprika
2

teaspoons salt
1/2

teaspoon ground red pepper (cayenne)
1

tablespoon canola oil
1

cup canned coconut milk (not cream of coconut)
1

large onion, chopped
4

cloves garlic, finely chopped
4 1/2

teaspoons finely chopped gingerroot
1 1/2

teaspoons ground cumin
1/2

teaspoon garam masala
1/2

teaspoon ground turmeric
1

can (14.5 oz) diced tomatoes with roasted garlic, undrained
1

cup whipping cream
1/4

cup chopped fresh cilantro
6

cups hot cooked basmati rice
Lime wedges, if desired
Directions
Spray 5-quart slow cooker with cooking spray. In large resealable food-storage plastic bag, place chicken, coriander, paprika, salt and red pepper. Seal bag; shake to coat chicken with spices. In 12-inch skillet, heat oil over medium-high heat. Add half of the chicken; cook 5 minutes, turning once, until lightly browned. Remove chicken to slow cooker. Repeat with remaining chicken.

Add coconut milk to skillet, stirring to loosen browned bits. Pour into slow cooker. Add onion, garlic, ginger root, cumin, garam masala, turmeric, tomatoes and whipping cream; stir.

Cover; cook on Low heat setting 4 hours. Stir in cilantro. Serve chicken and sauce with rice and lime wedges.