Delicious Dine In Coconut Shrimp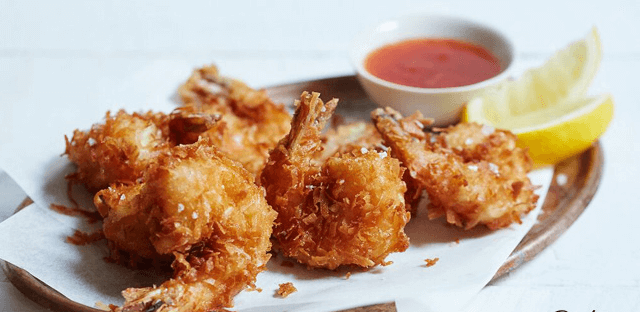 |
Forget the restaurant, save money and make this Crunchy Coconut Shrimp at home instead.
This is hands down one of the most popular appetizers that people love to order when they go out to dinner.  Yes, you can serve this as an appetizer as the recipe suggests.  However, I love it so much I would serve it as an entree.  If that's what you decide to do, this recipe should make 4-5 servings.  I would probably serve it over rice and some steamed asparagus or another favorite vegetable on the side.
Surprise your friends and family and make this delicious restaurant favorite at your next gathering.
Makes 8 to 10 appetizer servings
Ingredients
Vegetable oil, for frying
1 cup all-purpose flour
1½ teaspoons salt
1 teaspoon freshly ground black pepper
Pinch of chile powder
2 eggs, lightly whisked
2½ cups sweetened shredded coconut
2 pounds peeled and deveined shrimp**
1 lemon, cut into wedges
¾ cup store-bought sweet chile sauce, for dipping
**save yourself some time and buy shrimp already peeled and deveined
Directions
1. In a large pot, heat 3 inches of vegetable oil until it reads 350°F on a thermometer. Line a baking sheet with several layers of paper towels.
2. Prepare three shallow bowls. In one, whisk the flour with the salt, pepper and chile powder to combine. In another, whisk the eggs. In the last, place the shredded coconut.
3. Working one at a time, dip each shrimp first into the flour mixture, then into the egg and then into the coconut. Repeat with all shrimp.
4. Fry the shrimp until they are golden and cooked through, 4 to 5 minutes. Remove them from the oil and drain on the paper towels.
5. Serve immediately with lemon wedges and sweet chile sauce.
PHOTO: LIZ ANDREW/STYLING: ERIN MCDOWELL