Damn Good Chocolate Cake, Really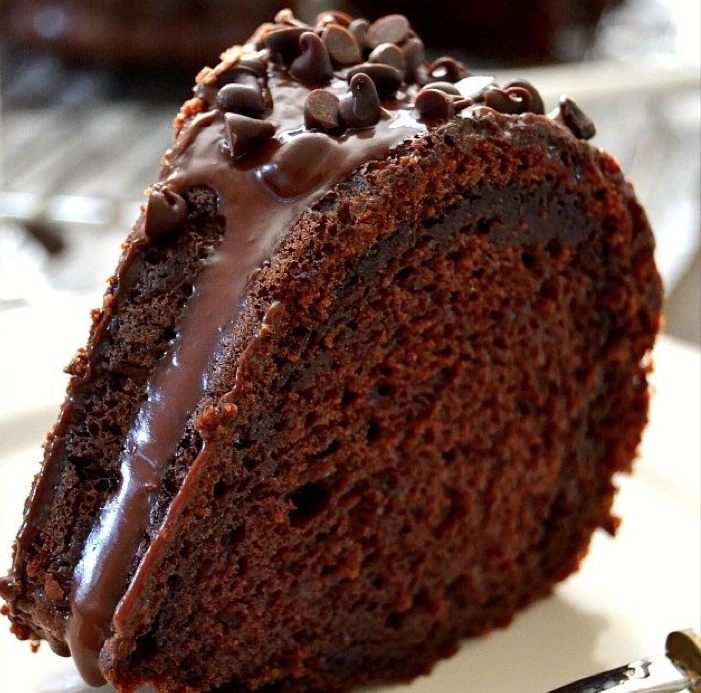 |
After you've tasted it, you'll understand why it's called Damn Good Chocolate Cake.
This isn't about just a little chocolate, uh uh.  Along with a box of chocolate fudge cake mix and chocolate pudding mix you have two types of chocolate chips.  And a chocolate ganache poured over the already chocolate cake really puts this in the chocolate lover's hall of fame.
Serve this to your friends and family and watch your fame grow!
Damn Good Chocolate Bundt Cake
Prep time: 
Cook time: 
Total time: 
Serves: 12
1 box chocolate fudge cake mix
1 small box sugar free/fat free instant chocolate pudding mix
4 eggs
½ cup oil
½ cup buttermilk
1 cup sour cream
¾ cup heavy cream
1 cup (8 oz) semi-sweet chocolate chips
About ⅔ cup miniature chocolate chips, for garnish
Instructions
Preheat oven to 350 degrees F. Liberally grease a large bundt pan with cooking spray and set aside.
In a large bowl, combine the cake mix, pudding mix (just the dry mix), eggs, oil, buttermilk and sour cream with a handheld electric mixer on medium-low speed. Beat for 2 minutes or until combined and smooth. Pour into the prepared pan and smooth out the top.
Bake for approx. 45-55 minutes or until a toothpick or knife inserted near the center comes out clean. Cool completely before inverting onto a wire rack.
Once cake has cooled, make your ganache. In a large microwave-safe bowl, microwave the heavy cream and 1 cup of the semi-sweet chocolate chips for 45 seconds. Stir, then microwave for another 30 seconds or until melted and smooth. Allow the ganache to set at room temperature for about 15 minutes before pouring over the top of the cake. Garnish immediately with the miniature chocolate chips and let set, about 20 minutes. Cut into slices and serve