Crowd Pleasing Loaded Baked Potato Salad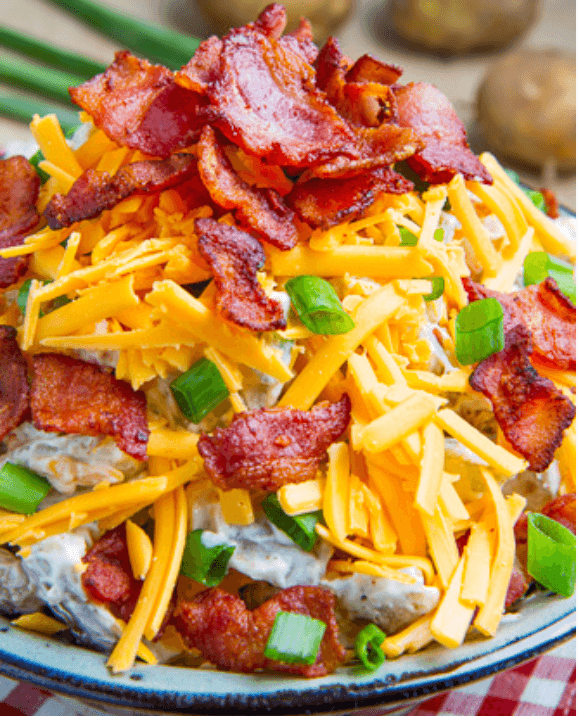 |
This Loaded Baked Potato Salad will be the hit of your next picnic or barbecue!
When it's too hot to turn on the oven and bake your potatoes, we've got a delicious solution.  This creamy potato salad comes with all the yummy bits you love on your loaded baked potato; cheddar cheese, crisp bacon, green onions and sour cream or Greek yogurt.
Kevin likes to use new potatoes in this recipe and suggests that if you're a broccoli fan, it will work well in this salad too.  You can chop the broccoli in small pieces and add it raw or steam it for a few minutes…your choice.
This is a surprisingly simple dish that is bound to make a great impression at your next family gathering.  Enjoy!
Loaded Baked Potato Salad
Prep Time: 5 minutes
Cook Time: 25 minutes
Cool Time: 30 minutes
Total Time: 1 hour
Servings: 4
Ingredients
1 1/2 pounds potatoes, diced (optionally peeled)
1 cup sour cream (or Greek yogurt)
1/2 cup cheddar cheese, shredded
4 strips bacon, cut into 1 inch pieces
4 green onions, sliced
salt and pepper to taste
Directions
Boil the potatoes in water until just fork tender, about 15-20 minutes, drain and let cool completely.
Meanwhile cook the bacon and set aside on paper towels to drain.
Mix everything and optionally, though highly recommended, let it chill in the fridge to allow the flavours to mingle before serving.
Nutrition Facts: Calories 293, Fat 12g (Saturated 8g, Trans 0), Cholesterol 42mg, Sodium 297mg, Carbs 32g (Fiber 5g, Sugars 6g), Protein 13g
Nutritional Info by Edamam