Creamy Spaghetti With Avocado Sauce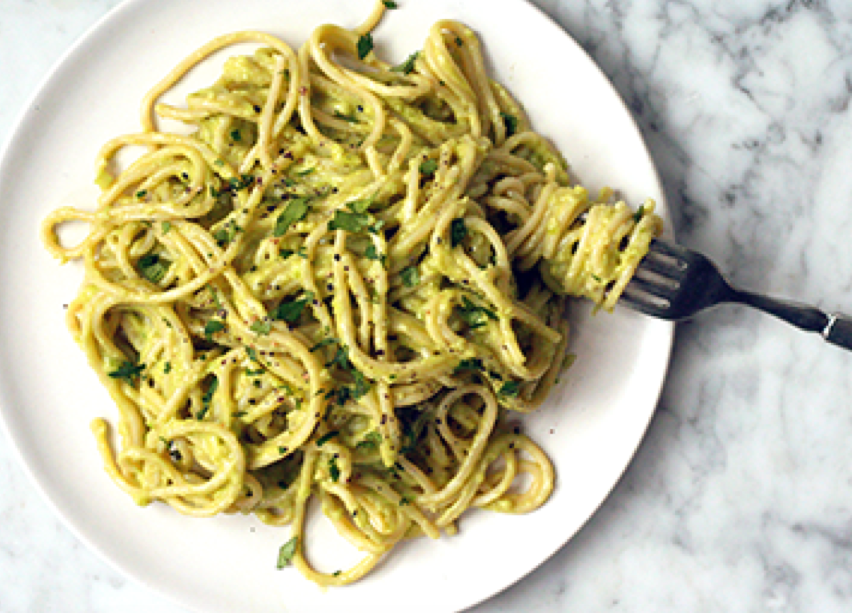 |
Spaghetti with Avocado Sauce is a rich but healthy sauce.
And if you wanted to be even more virtuous, you could always replace your traditional white flour pasta with whole wheat pasta.  Whole wheat pasta has improved a lot since it first came out.  I've done some research and if you decide to go that way, here are a few that you might want to try.
This dish is easy to prepare and should be done in about 30 minutes.  If you wanted to add some protein, you can always add some left over cooked chicken.  Or to keep it vegetarian, try adding some walnuts.
Just saute a handful or two of walnut halves and/or pieces in a non-stick frying pan for about 2 minutes on low to medium.  I usually put in a teaspoon of olive oil first but I have seen recipes where they don't put any oil in at all. They just need to be heated a bit to release their own oil.  Stir them a few times to be careful not to burn them. Drain them on a paper towel.  I usually add a little garlic salt to them and maybe a little dried rosemary once they are draining on the paper towel.

If you love avocados, you'll want to try this delicious recipe.
Spaghetti with Avocado Sauce
Start to Finish: 30 minutes
Ingredients
Directions
1. Bring a large pot of salted water to a boil. Add the spaghetti and cook until al dente, 6 to 8 minutes.
2. While the pasta cooks, make the sauce: In the bowl of a food processor, pulse the avocados, garlic, scallions, lemon juice and olive oil until smooth.
3. When the pasta is tender, reserve ½ cup of the cooking water, then drain the pasta. Add the reserved water to the avocado mixture and process until smooth.
4. Add the sauce to the pasta and toss to coat. Season with salt and pepper. To serve, portion the pasta onto plates and garnish with parsley.
Source Image by Erin McDowell