Creamy Roasted Mushroom Soup With Brie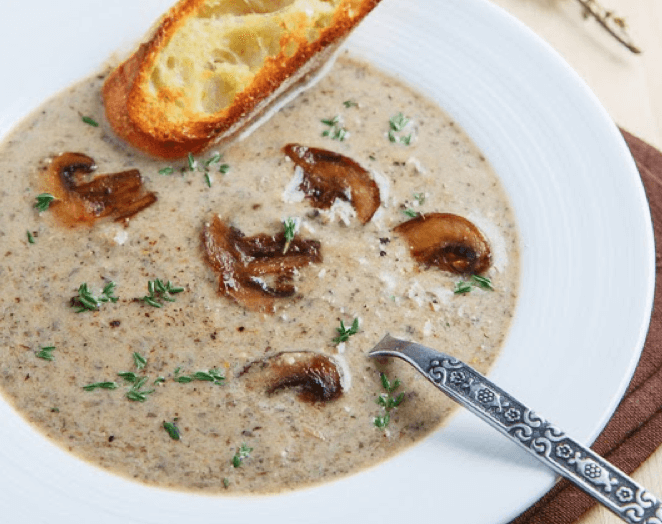 |
This is a "must have" Roasted Mushroom Soup with Brie.
When you want to take your cream of mushroom soup to the next level, add Brie.  It makes it even more creamy and brings it to a whole new luscious level.
You can always just saute your mushrooms for this recipe, however, roasting them will make them caramelize and bring out even more flavor.
Once you have roasted your mushrooms, you can add them to your soup pot and finish this recipe all in one pot.  Less pots used means less clean up, and I think we all like that.
Also, you can use your slow cooker with this recipe.  The directions for doing this are below.
Make this delicious soup once and I'll bet you'll be making it again and again!
Roasted Mushroom and Brie Soup
Prep Time: 10 minutes
Cook Time: 40 minutes
Total Time: 50 minutes
Servings: 4
Ingredients
1 tablespoon oil
1 1/2 pounds mushrooms, quartered
2 tablespoons butter
1 onion, diced
2 cloves garlic, chopped
1 teaspoon thyme, chopped
2 tablespoons flour (rice flour for gluten free)
1/2 cup white wine (or broth)
4 cups vegetable broth or chicken broth
4 ounces brie, cut into 1 inch pieces
1/2 cup milk or heavy cream
salt and pepper to taste
Directions
Toss the mushrooms in the oil, place on a baking sheet in a single layer and roast in a preheated 400F/200C oven until they start to caramelize, about 20-30 minutes, mixing them up once in the middle.
Meanwhile, melt the butter in a pan over medium heat, add the onions and cook until tender, about 5-7 minutes.
Add the garlic and thyme and cook until fragrant, about a minute.
Add the flour and cook for 2 minutes.
Add the wine and deglaze the pan.
Add the broth and mushrooms, bring to a boil, reduce the heat and simmer for 10 minutes.
Add the milk and brie, let the brie melt, fish out the rinds and season with salt and pepper to taste before pureeing to the desired consistency and enjoy!
Slow Cooker: Implement steps 1-4, place everything except the brie and cream into the slow cooker and cook on low for 6-10 hours or on high for 4-6 hours before adding the brie and cream, letting the brie melt and pureeing.
Option: Saute the mushrooms in a pan with the onions instead of roasting them.
Option: Add 2 tablespoons white miso.