Creamy Hot Caramelized Onion and Bacon Dip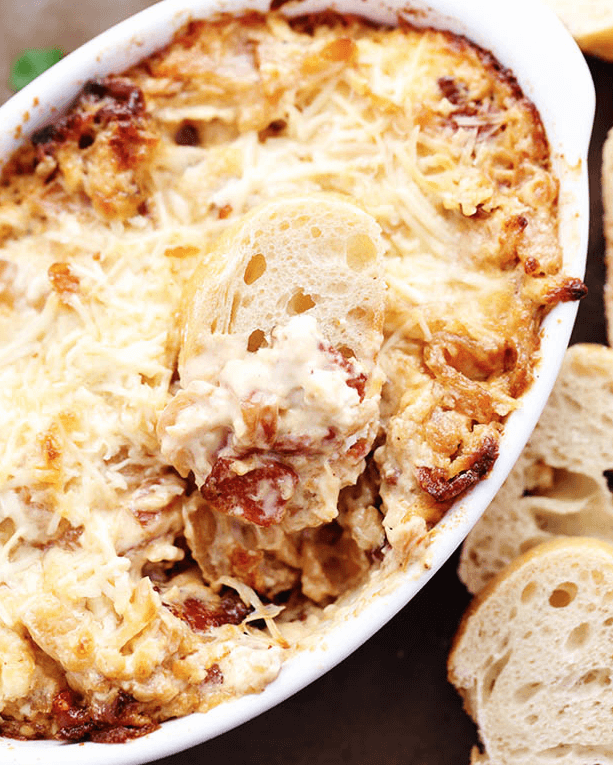 |
Just the name Hot Caramelized Onion and Bacon Dip sounds outrageously good.
A lot of us are familiar with the cold sour cream onion dip but this hits it out of the park.  The only slightly time consuming part is caramelizing the onions, but you definitely don't want to skip this part.  It gives the onions a sweet, smokey taste with none of the bite you would normally associate with onions.  This is the dip that even people that think they don't like onions will love!
Make this for your Super Bowl Party and you will have a hit on your hands!
Hot Caramelized Onion and Bacon Dip
Ingredients
1 tablespoon oil
4 large sweet onions, thinly sliced
½ cup water
4 ounces cream cheese, softened
½ cup mayonnaise
¾ cup grated remand cheese, divided (you could also use parmesan)
6 slices bacon, cooked and crumbled
salt and pepper to taste
Instructions
In a medium sized skillet add oil, onions, and water. Cook over medium high heat until browned and caramelized adding more water as needed.
Combine onions, cream cheese, mayonnaise, ½ cup grated cheese and bacon. Spread into a baking dish and bake in a preheated 350 degree oven for about 20-30 minutes. Or until top is nicely golden brown.