Creamy Cajun Shrimp Fettuccine Alfredo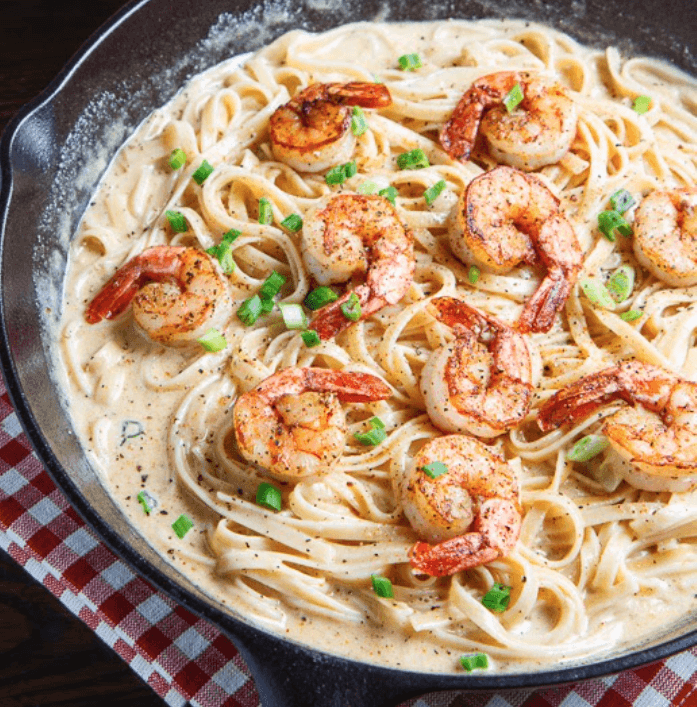 Spice up your dinner with this delicious Cajun Shrimp Fettuccine Alfredo.
I'm always looking for new and delicious shrimp recipes and it looks like I found another one.
Alfredo pasta sauce is always a taste treat, but then when you add blackened shrimp with cajun spices it is beyond good!  And of course, let's not forget the yummy parmesan cheese, garlic and white wine…yum.
You can always save this for a special event and impress your guests, but why not treat yourself right now!
Cajun Shrimp Fettuccine Alfredo
Prep Time: 10 minutes
Cook Time: 10 minutes
Total Time: 20 minutes
Servings: 4
Ingredients
8 ounces fettuccine or your favorite pasta
1 tablespoon butter
1 pound shrimp, peeled and deveined
1 tablespoon cajun seasoning
2 cloves garlic, chopped
1/4 cup dry white wine or chicken broth
1 cup heavy/whipping cream
1 cup parmigiano reggiano (parmesan), grated
1/2 tablespoon cajun seasoning or to taste
1/4 cup green onion, sliced (optional)
Directions
Start cooking the pasta.
Melt the butter in a pan over medium-high heat, toss the shrimp in the cajun seasoning, add to pan and cook, about 2-3 minutes per side, and then set aside.
Add the garlic to the pan and saute until fragrant, about a 30 seconds.
Deglaze the pan with the wine, add the heavy cream, parmesan and cajun seasoning and cook until it thickens a bit, about 3-5 minutes.
Toss the pasta in with the alfredo sauce along with the shrimp and serve garnished with green onions.