Celebrate With Guinness Glazed Slow Cooker Corned Beef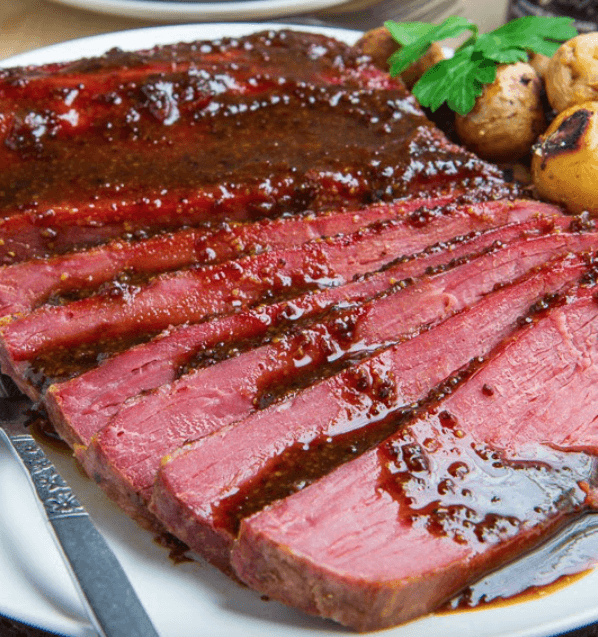 |
This Guinness Glazed Slow Cooker Corned Beef recipe is just in time for St Patrick's Day.
Kevin Lynch is a very creative cook.  And cooking this corned beef in a well known Irish stout, Guinness, is a good example of it.  Using the Guinness as your liquid is a great idea but then he goes one step further and creates a Guinness glaze too.  The glaze combines the delicious flavor of Guinness with brown sugar, grainy mustard and Worcestershire sauce…yum.
Make your St Patrick's Day celebration even more special with this traditional dish with a delicious twist.  Enjoy!
Guinness Glazed Slow Cooker Corned Beef
Prep Time: 5 minutes
Cook Time: 8 hours 25 minutes
Total Time: 8 hours 30 minutes
Servings: 12
Ingredients
1 4 pound corned beef in pickling liquid and spices
1 bottle/can (12+ ounces) Guinness or other Irish stout
1 small onion, sliced
1 clove garlic, chopped
1/4 cup brown sugar
2 tablespoons grainy mustard
1 tablespoon Worcestershire sauce
salt and pepper to taste
Directions
Place the corned beef along with the pickling spices, onion and garlic in a slow cooker/crock-pot with the fat layer on top, pour in the Guinness and cook on low until fork tender, about 8-10 hours.
Set the corned beef aside, strain the solids from the Guinness and juices, place the liquid into a large sauce pan, add the brown sugar, mustard, Worcestershire sauce, salt and pepper, bring to a boil reduce the heat and simmer to reduce by half, about 10 minutes.
Cut the fat layer from the corned beef, glaze with the Guinness glaze and bake in a preheated 400F/200C oven until the glaze starts bubbling, about 10-15 minutes.