Blissfully Baked Avocado Bacon And Eggs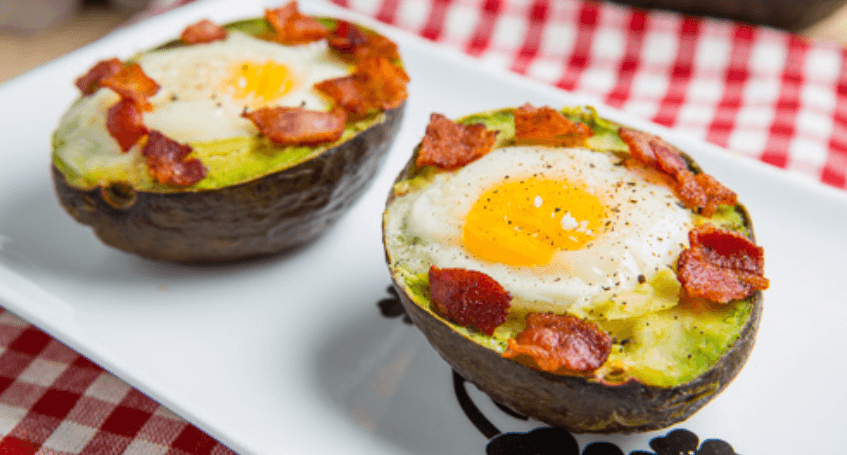 |
Just the thought of Baked Avocado Bacon and Eggs makes me happy!
Anytime I see a delicious recipe that calls for avocados, I am on it.  Of course, this is a perfect breakfast but I also like it for dinner.  And an additional benefit is that eggs are a great source of protein and inexpensive too.
This recipe is easy to put together and while your eggs are baking you can be preparing the bacon. The baking time is about 15 minutes but if you like soft, not runny eggs, you could add another 2-3 minutes to the baking time.
Also, here's a tip that I have learned.  Just before you put the eggs in to the avocado, turn the avocado halves upside down and cut a small quarter size slice from the bottom of each.  Then turn them back around and put your eggs in. When you do that, the avocados will have a firm base. If you don't do that, the curve of the avocado shell could cause them to wobble a bit and make it a little tipsy/messy when you put your egg in.
As shown in one of the photos, you might also want to have this with toast and maybe some chopped tomatoes.  That way you can eat part of it from the avocado itself and spread some of it on the toast too.
Whatever you decide, be sure to try this soon and enjoy!
Baked Avocado Bacon And Eggs
Prep Time: 5 minutes
Cook Time: 15 minutes
Total Time: 20 minutes
Servings: 1
Ingredients
1 medium avocado, cut in half and stone removed
2 small eggs
2 strips bacon, cut into 1/2 inch pieces (optional)
salt and pepper to taste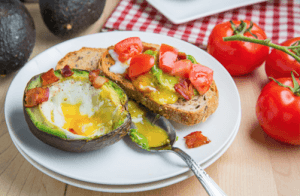 Directions
Scoop enough of the avocado out that it can fit the eggs and fill them with the eggs.
Bake in a preheated 425F/220C oven for 15 minutes or until the eggs are set the way you like it.
Meanwhile cook the bacon and set aside on paper towels to drain.
Season the avocados with salt and pepper to taste, top with the bacon and enjoy with a spoon or on toast