Baker's Best Christmas Cookies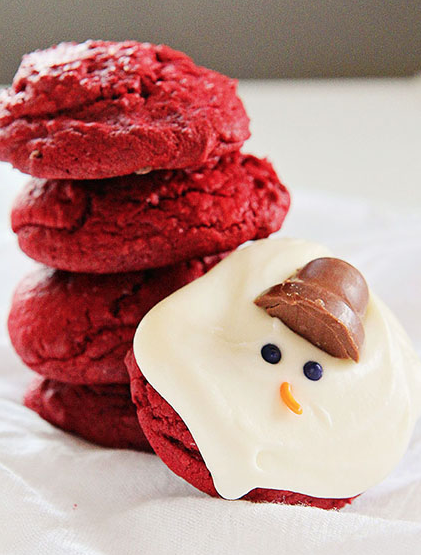 These wonderful Holiday Cookies come from some of the best baker's on the internet.
The first is a Red Velvet Cream Cheese Thumbprint Cookie.  They are easy to make and the colors are great for Christmas, Valentines Day or with a few blue sprinkles you are also set for the 4th of July.  And don't you just love the look of that frosting on the Vanilla Bean Sugar Cookies!  I also like the clever use of a cookie cutter to help decorate the tops.  And how about the Red Velvet Snowman Cookies…wow!  Super simple recipe and a real eye catcher too.
Have fun baking and sharing these delightfully delicious cookies with family and friends.
Red Velvet Cream Cheese Thumbprint Cookies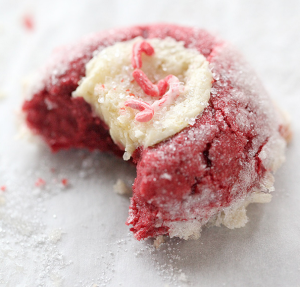 Ingredients
For the cookies
1 cup (2 sticks) unsalted butter, softened
½ cup packed brown sugar
2 large eggs, separated
1 teaspoon vanilla extract
2 cups all-purpose flour
4 teaspoons red liquid food coloring
2 teaspoons natural unsweetened cocoa powder
½ cup granulated sugar
For the filling
4 ounces cream cheese, softened
¼ cup sugar
⅛ teaspoon salt
¼ teaspoon vanilla extract
Instructions
To make the cookies: Preheat the oven to 300 degrees F.
Beat the butter, brown sugar, and 1 egg yolk (reserve the other yolk for the filling) in a large bowl with and electric mixer until fluffy. Beat in the vanilla. Add the flour, food coloring, and cocoa and mix until a soft dough forms. Roll the dough into 36 balls.
Place the egg whites in a shallow bowl and beat them lightly with a fork. Place the granulated sugar in a separate shallow bowl. Roll each dough ball in the egg whites and then in the sugar. Place the balls 2 inches apart on an ungreased baking sheets. Make an indentation in the top of each cookie with your thumb.
To make the filling: Beat the cream cheese, sugar, the reserved egg yolk, salt, and vanilla in a bowl with an electric mixer until smooth.
Bake the cookies for 10 minutes. Removed them from the oven and use the handle of a wooden spoon to deepen the indentation (be careful not to break them.) Fill each cookie with about 1 teaspoon of the filling, then return the cookies to the oven and bake until the cookies and fillings are set, about 12 minutes more. Cool for 2 minutes on the baking sheets, then transfer to a rack to cool completely. Store the cookies in the refrigerator. Allow the cookies to come to room temperature before serving.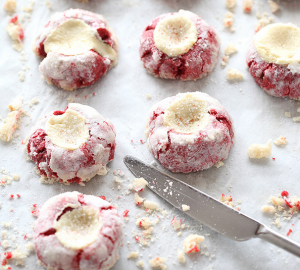 After the cookies have finished baking, use a knife to gently crack off the edges of the sugared egg white that baked off of the cookie to reveal a pretty, lightly crunchy round edge.
Please see page two for Vanilla Bean Christmas Cookies