Baja Chicken Hash Brunch From The Cheesecake Factory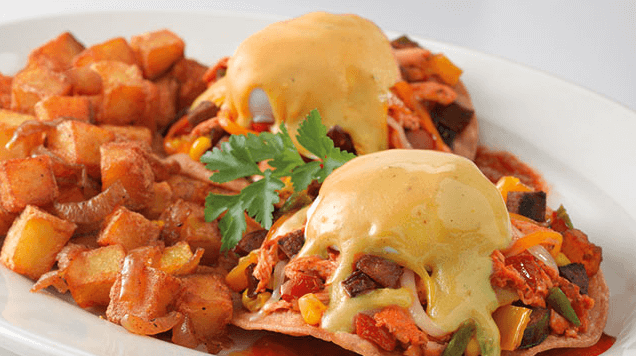 This popular Baja Chicken Hash is straight from the Cheesecake Factory to your kitchen stove.
Yes, this recipe lets you prepare one of their delicious brunch favorites right at home.  Chicken hash with grilled Chorizo and grilled chicken breasts, along with the flavors of red, yellow and Poblano peppers.
If you love this dish at the Cheesecake Factory, here's your chance to treat everyone to it at home.
Servings: 4 Single Portions or 2 Double Portions
Ingredients
1-1/2 fz. Canola Oil
6 oz. Chicken Chorizo, grilled, cut into small pieces*
4 oz. Chicken Breast, grilled, sliced thin**
4 oz. Red & Yellow Peppers, small diced
2 oz. Poblano Peppers, roasted, peeled, cut into small pieces*
8 oz. Small Red Rose Potatoes, cooked, small diced
2 oz. Fresh Corn, lightly grilled
1 oz. Green Onions, coarsely chopped
4 fz. Ranchero Sauce*
4 ea. Thick Corn Tortillas (6"), fried crisp
4 ea. Eggs (prepared to your preference)
4 fz. Hollandaise Sauce***
2 tsps. Cilantro Leaves, finely chopped
Instructions
Heat the canola oil in a large sauté pan set over medium high heat.  Add the chicken chorizo, sliced grilled chicken, red/yellow peppers into the pan, tossing once or twice to combine the ingredients.  Cook until all of the ingredients are heated through.
Add the potatoes, corn, and green onions into the pan, tossing once or twice to combine the ingredients.
Add the Ranchero sauce into the pan.  Stir the ingredients together until evenly combined.  Continue to cook until all of the ingredients are thoroughly heated through.
Place a crispy tortilla (two for a double portion) onto serving plates.  Place equal amounts of the chicken hash on top of each tortilla.  Top each tortilla/hash portion with an egg (cooked to your preference).
Ladle a little Hollandaise over each of the eggs.
Garnish with chopped cilantro.
* Excellent ready made products are available at most supermarkets and specialty stores.
**Any cooked chicken (steamed, poached, sautéed, roasted, etc.) may be used for this recipe.
***Personal recipes of choice may be used.
Note from Yummy Tummy Zone:  I noticed the measurement "fz" on some of the Cheesecake Factory recipes.  I looked it up because it was new to me.  In case you are unfamiliar with it too, it means "fluid ounce" which apparently is about 2 tablespoons.  Now we know!