Always Time For Skillet Nacho Dip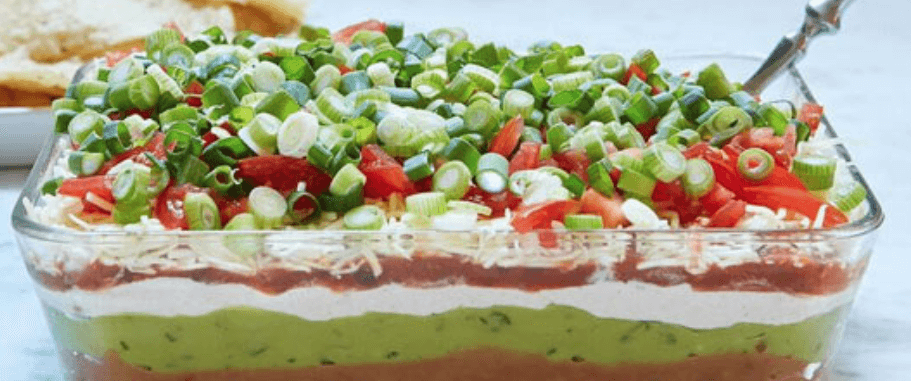 |
The reason Nacho Dip has been around so long is that people love it!
And what's not to love when you combine guacamole with anything.  In this case it is refried beans, green chiles, salsa and lots of cheese.  This is a super easy recipe because you are using store bought salsa, guacamole and canned refried beans and green chiles.  I have made refried beans from scratch before and after all the time spent soaking beans, etc., I found the canned refried beans to be just as good.
If you don't have your own recipe for guacamole, you should be able to get a good store bought guacamole in the refrigerated section of your market.  Or, I have a link here to a delicious guacamole recipe.
Enjoy this classic dip soon with family and friends.
SKILLET NACHO DIP
Makes 8 to 10 appetizer servings
Start to Finish: 30 minutes
INGREDIENTS
1½ cups sour cream
1 tablespoon taco seasoning
One 15-ounce can refried beans
One 4-ounce can green chiles
2 cups guacamole
1½ cups salsa
1¼ cups shredded Monterey Jack cheese
1 cup chopped tomatoes
1 cup chopped scallions
Tortilla chips, as needed for serving
DIRECTIONS
1. In a small bowl, mix the sour cream with the taco seasoning to combine.
2. In another small bowl, mix the beans with the chiles to combine.
3. In the base of an 8-by-4-inch casserole dish (or other small casserole dish, if you don't own this size), spread the beans in an even layer.
4. Spread an even layer of guacamole over the beans.
5. Spread an even layer of sour cream over the guacamole.
6. Spread an even layer of salsa over the sour cream.
7. Sprinkle an even layer of cheese over the salsa. Top with the tomatoes, then the scallions. Serve with tortilla chips.
Note: You can make this dip up to 12 hours ahead and refrigerate it until ready to serve.
PHOTO: LIZ ANDREW/STYLING: ERIN MCDOWELL