A Turkey Roulade With Cranberry Apricot Stuffing Is Different & Delicious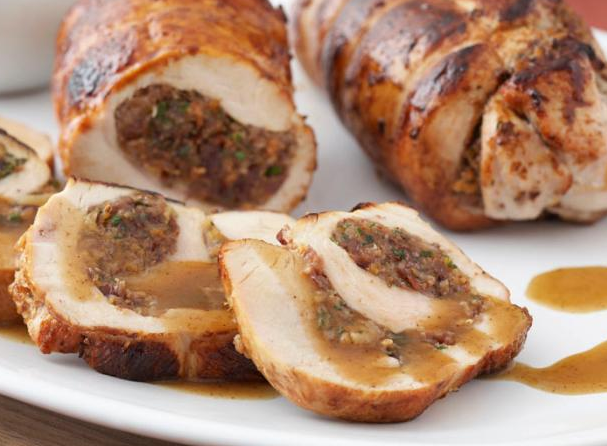 |
This Turkey Roulade with Cranberry Apricot Stuffing makes a beautiful presentation.
Cognac, dried fruit and toasted almonds make a different and delicious combination.   Make it easy on yourself and see if your butcher will debone and butterfly the turkey breasts for you.  If that's not possible, I found a YouTube video showing you just how you can do that.  I have put that link below the recipe. **
There are more steps involved in preparing this turkey roll than the traditional roast turkey.  However, once it is out of your oven, you don't have to deal with the often cumbersome job of carving the turkey.  You just simply slice the rolls in to one inch thick slices and serve with the pan sauce.
If you want something a little different from the traditional roast turkey, I think you will be delighted with this turkey roll.
Turkey Roulade with Cranberry-Apricot Stuffing
Total Time:     2 hr 15 min
Prep:                20 min
Cook:               1 hr 40 min
Yield:               10 servings
Ingredients
1/2 cup whole almonds
2 teaspoons fennel seeds
1/3 cup Cognac or other brandy
1/4 cup water
2/3 cup dried cranberries
2/3 cup dried apricots (about 8 medium), coarsely chopped
2 medium shallots, minced
4 tablespoons unsalted butter, softened
2 teaspoons kosher salt, plus additional for seasoning
Freshly ground black pepper
2 tablespoons fresh parsley leaves
2 boneless, skinless turkey breast halves, butterflied (about 5 to 6 pounds)
2 tablespoons vegetable oil
3 cups white wine
1/2 cup chicken broth
Directions
Preheat the oven to 400 degrees F.Spread the almonds and fennel seeds on a baking sheet and cook until golden and aromatic, about 10 minutes. Let cool to room temperature. Warm the cognac and water in a small saucepan, add the cranberries and apricots, and set aside until plump, about 10 minutes.In a small food processor, pulse the almonds and fennel until coarsely chopped, then add the fruit and any unabsorbed liquid with the shallot, butter, 2 teaspoons salt and pepper, to taste, until the fruit and nuts are coarsely chopped. Add the parsley and pulse once or twice more.Place the turkey breast halves on a cutting board. Divide and spread the fruit mixture evenly over them, leaving about a 1-inch border. Starting with the long end of each breast, roll like a jelly roll and tie firmly with butchers twine. Season generously with salt and pepper.Heat a large skillet over medium-high heat, add the oil, and heat until shimmering. Sear the turkey roulades, turning occasionally, until they are golden brown on all sides, about 8 minutes. Place the 2 roulades on a rack in a roasting pan and pour 2 cups of the wine over them. Roast, uncovered, until an instant-read thermometer inserted into the center of the meat registers 165 degrees F, about 1 hour and 10 minutes. Transfer the breasts to a carving board, tent loosely with foil, and let rest while you make the sauce.
Put the roasting pan over medium heat on the stove top. Add the remaining 1 cup of wine and stir with a wooden spoon to release the brown bits that cling to the pan. Add the chicken broth and cook until syrupy, about 5 minutes. Season with salt and pepper.
Carve the turkey into 1-inch thick slices and serve with the pan sauce.
**In case you need it, click here to see the video on how to debone and butterfly the turkey breasts.