A Delicious Lasagna Dip That's Healthy Too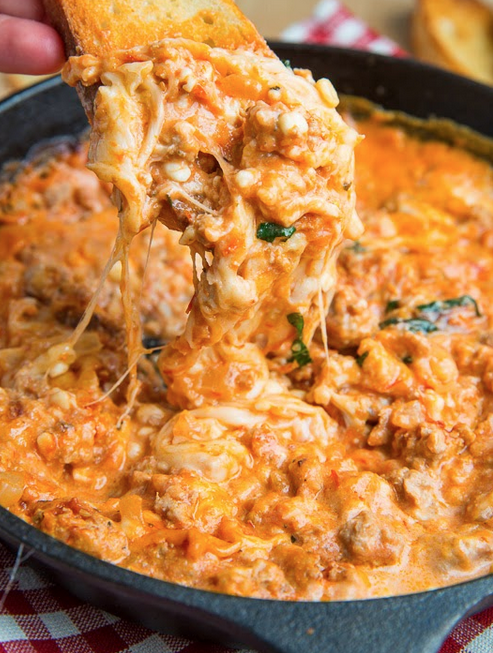 |
This Lasagna Dip gives us the best of both worlds.
You have all the good stuff, like ground turkey, tomato sauce, low fat cottage, ricotta or cream cheese without all the carbs in lasagna noodles.  It is also loaded with 35 grams of protein and only 289 calories per serving.  Just looking at the picture, it's hard to believe that anything that looks this good can be good for you too!
You can use raw veggies, such as cauliflower, broccoli and zucchini slices to dip.  And if you want, you can also serve with slices of a baguette right along with the veggies.  The choice is yours!
Your guests will love this dip at your next party!
Ingredients
1/2 pound ground turkey
1 cup lasagna tomato sauce (see below)**
1 cup low fat cottage cheese or ricotta or cream cheese
1 cup partially skim mozzarella, shredded
Directions
Cook the turkey, add the tomato sauce and simmer until it thickens a bit, about 3-5 minutes.
Spread the cottage cheese over the bottom of a baking dish, followed by the sauce and finally the mozzarella.
Bake in a preheated 350F/180C oven until the top is a light golden brown and the sides are bubbling, about 15-20 minutes.
Slow Cooker: Implement step 1, layer everything in the slow cooker the same as in the pan and cook until the cheese is nice and melted about 1-2 hours on high or 2-4 hours on low.
Option: Use ground beef or Italian sausage instead of ground turkey or omit the meat entirely.
Option: Use marinara sauce or your favorite tomato sauce instead of making the lasagna sauce from scratch.
Nutrition Facts: Calories 289, Fat 19g (Saturated 4.6g, Trans 0), Cholesterol 80, Sodium 812mg, Carbs 29g (Fiber 6g, Sugars 14g), Protein 35g
Lasagna Tomato Sauce**
Prep Time: 5 minutes
Cook Time: 20 minutes
Total Time: 25 minutes
Servings: 2

cups
This tasty tomato sauce is also great with pizza and pasta too!
Ingredients
1 tablespoon oil
1 onion, diced
2 cloves garlic, chopped
1/2 teaspoon red pepper flakes
1/2 teaspoon fennel seeds, crushed (optional)
1 (15 ounce) can crushed tomatoes
1 tablespoon tomato paste (optional)
1 teaspoon Italian seasoning or oregano
1 bay leaf
1/2 teaspoon paprika (optional)
1 tablespoon balsamic vinegar (optional)
salt and pepper to taste
1 tablespoon basil, chopped (optional)
Directions
Heat the oil in a pan over medium heat, add the onion and cook until tender, about 5-7 minutes.
Add the garlic, red pepper flakes, and fennel and cook until fragrant, about a minute.
Add the tomatoes, tomato paste, Italian seasoning, bay leaf, paprika, balsamic vinegar, salt and pepper, bring to a boil, reduce the heat, simmer until until it thickens, about 5 minutes, and then mix in the basil and remove from heat.
Option: Cover and simmer for longer to develop more flavor.
Option: Add one 2 inch piece of Parmesan rind to the sauce while it simmers.
Nutrition Facts (per cup): Calories 178, Fat 7g (Saturated 0.5g, Trans 0), Cholesterol 0, Sodium 346mg, Carbs 26g (Fiber 6g, Sugars 14g), Protein 5g